Background
Senior Orchestra
String Orchestra
Concert Orchestra
Governance
About CALOS
Formerly known as the Newfoundland Symphony Youth Orchestra, CALOS is proud to be entering its 41st season. The organization comprises young instrumentalists from St. John's and surrounding communities on the Northeast Avalon including the Clarenville area. With participants ranging in age from 11 to 25, CALOS is the largest and foremost training program for young instrumentalists in the province. Led by Artistic Director Grant Etchegary, CALOS offers three sequentially structured orchestras, the String Orchestra, Concert Orchestra and Senior Orchestra, and four beginner programs in oboe, bassoon, French horn, viola, and double bass. CALOS provides both high quality and accessible orchestra and ensemble experiences. The organization also provides public, competitive, and outreach performance opportunities for its membership.
Our Mission
The mission of CALOS Youth Orchestras is to encourage and develop the musical and social abilities of young people who have the desire and potential to play and participate in accessible, high-quality orchestra and ensemble programs.
Our Logo
Our logo symbolizes the expansion of sound waves as they move away from the stage where the orchestra plays. Lines from the central point in negative space bounce back and forth rippling outwards to represent the way music reaches out to all of us. The shapes created also mimic the crashing waves of the sea in bright colours to show how talented individuals can work together for one resounding purpose. The contrasting colours represent the diverse nature of our organization in terms of age, ethnicity, and opportunity. In Latin, "CALOS" means "to celebrate". In Greek, "CALOS" is used to describe someone who is beautiful, an outward sign of the inward good, noble, and possessing honourable character. A person with "CALOS" is good, worthy, honourable, noble, and seen to be so.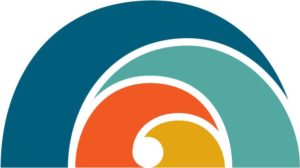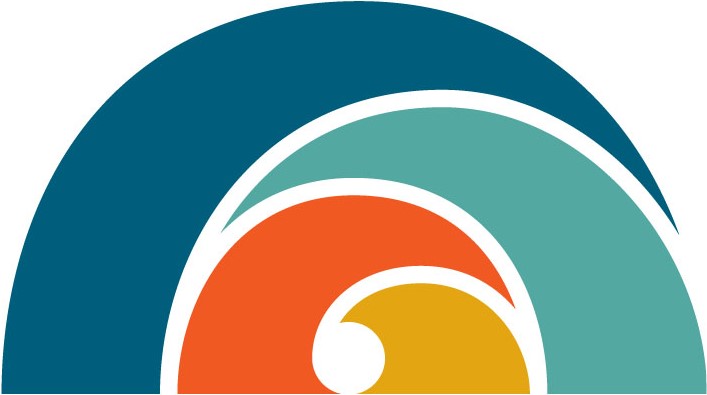 Our History
The CALOS (Kai'-lohs) Youth Orchestra was originally formed in the late 1960s by a group of enthusiastic young musicians, conducted by Gordon Bartlett. Marjorie Doyle, a well-known author, and broadcaster led the charge in gathering the necessary personnel and leadership to create an opportunity for young musicians to play orchestral music. The orchestra operated as part of the MUN Extension Service, maintained a vibrant place within the music education culture of St. John's, and was supported by numerous service, religious and academic institutions.
The orchestra continued to function under the auspices of the CALOS name until the 1980s when, under the direction of Peter Gardner, the Newfoundland Symphony Youth Orchestra was formed.

Throughout its history, NSYO/CALOS has worked to develop the musical talent of young instrumental musicians in our province and produce leaders in the global music community. Since its existence, NSYO has shared the joy and discipline of orchestral music-making with over 500 young Newfoundlanders and Labradorians. Many of our alumni have gone to play with the Newfoundland Symphony Orchestra and other professional orchestras and ensembles across the continent and around the world. Some of the NSYO's well-known performing alumni are Mark Fewer (violin, St. Lawrence String Quartet), Sean Rice (clarinet, National Arts Centre Orchestra), Heather Tuach (cello, Fitzwilliam String Quartet), Lynn Kuo (violin, assistant concertmaster of the National Ballet of Canada Orchestra), Rafael Hoekman (cello, Calgary Philharmonic), Jennie Press (violin, Vancouver Symphony), Romano DiNillo (percussionist, WICKED The Musical), Joshua Ward and Romesh Thavanthan (Hey Rosetta!), Andrew Dale (The Once), Kellie Walsh (Artistic Director, Lady Cove Women's Choir & Shallaway) and Heather Kao (Concertmaster of the Newfoundland Symphony Orchestra).  Even those who have not followed a career in music have been enriched by the musical, cultural, and social experiences that playing in a youth orchestra offers.
In 2019, the Newfoundland Symphony Youth Orchestra rebranded as CALOS Youth Orchestras, and renewed our connection with Memorial University School of Music. CALOS acknowledges a legacy of musical excellence at a time when instrumental music in Newfoundland and Labrador was in its infancy and recognizes the contributions of outstanding instrumental educators like Gordon Bartlett and Dr. Peter Gardner in building the orchestra. In collaboration with the MUN School of Music, we look forward to providing young musicians with a place to experience the wonderful world of orchestral music-making.
Senior Orchestra
Grant Etchegary, Conductor
The Senior Orchestra is the most advanced ensemble within the CALOS organization and comprises instrumentalists ranging in age from 12 and up. Conducted by Grant Etchegary, the Senior Orchestra season runs from September to May and consists of both full symphony rehearsals and sectional/ensemble coachings. Entrance into this ensemble is predicated on a successful audition. 

Each season, the ensemble performs a series of 2-3 main concerts for the public as well as several outreach initiatives, including educational matinees for schools in the Avalon region and community orchestra workshops. The Senior Orchestra also participates regularly in local festivals, the Kiwanis Music Festival and the Rotary Music Festival. The ensemble appears biannually in concert with the Newfoundland Symphony Orchestra under the baton of Maestro Marc David. During its history, the Senior Orchestra has undertaken more than 20 tours to many parts of Canada, England, Ireland, Wales, and Japan, as well as many parts of Newfoundland and Labrador.
Weekly Sunday rehearsals, 2:30 – 5:30 pm, MUN School of Music (Fall 2020 – Zoom Sessions and Online Activities) 
String Orchestra
Grace Dunsmore, Conductor
Dominic Greene, String Coach
The String Orchestra comprises young violin, viola, and cello players from the Eastern Newfoundland region. It is the feeder ensemble for the CALOS Senior Orchestra and is open to elementary and junior high students. This orchestra provides beginner/intermediate level string players with an introduction to ensemble playing under the direction of Grace Dunsmore and Dominic Greene. The group rehearses weekly from September to May in full orchestra and sectional rehearsals. As students gain experience in the Strings Orchestra and advance in their playing, they are recommended to audition and join the Senior Orchestra. The ensemble performs with the Senior Orchestra in 2-3 public concerts each season and also participates annually in the Kiwanis Music Festival and Rotary Music Festival.
Weekly Sunday rehearsals, 3:00 – 5:00 pm, MUN School of Music (Fall 2020 – Zoom Sessions and Online Activities) 
Concert Orchestra
Grace Dunsmore, Conductor
Dominic Greene, String Coach
The Concert Orchestra is an intermediate-level full orchestra with strings, woodwinds, brass and percussion players from the Eastern Newfoundland region. This ensemble offers intermediate musicians the opportunity to develop their technical skills on their instrument while gaining a valuable introduction to orchestral playing. The group rehearses weekly on Sunday afternoons from September – May and performs alongside the Senior and String Orchestras in 2-3 concerts per season. An audition is required for placement in this orchestra.
Weekly Sunday rehearsals, 4:00 – 5:30 pm, MUN School of Music (Fall 2020 – Zoom Sessions and Online Activities) 
Our Governance
CALOS is managed by an executive director and governed by an elected, volunteer Board of Directors, comprising parents, alumni, and music educators who are dedicated to fostering the offering of orchestral music education opportunities to youth. CALOS is registered with the Canada Revenue Agency as a Charitable Organization (8930 36772 RR0001).
Executive, 2020-2021
Geoffrey Spencer, Chair
Kathryn Shipley, Secretary
Jillian Rice, Treasurer
Directors
Maria Delahunty-O'Brien
Gordon MacGowan
Rosemary Norman
Michael O'Keefe
Glenn Rice
Karen Bulmer
Jamie Warren
Hannah Gaultois
Ex-Officio
Amanda Joseph, Executive Director
Grant Etchegary, Artistic Director