Grant Etchegary
Grace Dunsmore
Dominic Greene
Kiera Galway
Other Members
Grant Etchegary, Artistic Director and Conductor, Senior Orchestra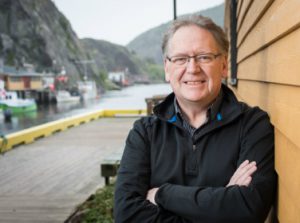 A native of Burin, Newfoundland, Grant Etchegary has performed, studied, and taught throughout Canada. As a woodwind specialist, Mr. Etchegary has studied at the Memorial University of Newfoundland, The University of Western Ontario, the University of Regina and Brandon University. He has performed with Orchestra London Canada, the Regina Symphony Orchestra, the London Concert Players and is currently Principal Bassoon with the Newfoundland Symphony Orchestra. Mr. Etchegary has been the musical director for numerous pit orchestras, wind ensembles, and jazz bands over his many years as a member of the St. John's musical community.
In 2014, Mr. Etchegary retired as the Instrumental Music Specialist at Holy Heart of Mary High School in St. John's, Newfoundland. However, Mr. Etchegary continues to be very involved in the musical community in Newfoundland. He assists in organizing the annual Rotary Music Festival in St. John's, teaches at the MUN School of Music and is a member of the NSO. In 2005, he was the recipient of the Prime Ministers Award for Teaching Excellence in recognition of his innovative vision for the utilization of current technologies in the music classroom and was awarded the 2014 Memorial University Arts in Education Award by the Newfoundland & Labrador Arts Council for his outstanding contributions to music education across the province and country. Mr. Etchegary joined the CALOS Artistic Team in 2013 and is now in his sixth season as Artistic Director and Conductor of the Senior Orchestra.
Grace Dunsmore, Conductor, String and Concert Orchestra
Grace Dunsmore is a native of Saskatchewan, but after many years of living, working, and raising a family in St. John's, she has long considered Newfoundland to be home.
Graduating from the University of Regina, Grace taught in the Regina Public School system, the Saskatchewan Summer School of the Arts, and played with the Regina Symphony Orchestra before moving to Newfoundland.
Here in St. John's, she established an active flute studio, and joined the Newfoundland Symphony Orchestra. Over the years, she has performed solo and chamber works, and has also taken part in numerous recording projects across a variety of genres.  She has played in many groups, including orchestras for Festival 500, Opera on the Avalon, and community musicals.  She is currently the Principal Flute of the NSO.
Until recently, Grace was an instrumental music specialist with the Newfoundland and Labrador English School District, spending most of her career at Macdonald Drive Junior High – teaching band, jazz band, guitar, and classroom music.
Now that she is retired from the school system, she is very excited with the new opportunity to work as the String/Concert Orchestra with the wonderful young musicians of CALOS.
Dominic Greene, String Coach, String and Concert Orchestra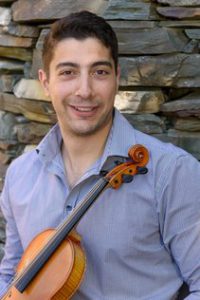 St. John's native Dominic Greene has recently completed a Master of Music degree in violin performance at the University of Toronto, in the studio of Erika Raum. While in Toronto, Dominic performed with various ensembles, including the University of Toronto Symphony Orchestra, University of Toronto Baroque Ensemble and the Sneak Peek Orchestra. This past year, Dominic was privileged to have been given the opportunity to play as concertmaster of the University of Toronto Symphony and Opera Orchestras. Dominic has also been an active freelance performer and teacher across the GTA. Prior to his studies in Toronto, Dominic attended Memorial University of Newfoundland, where he completed a Bachelor of Music degree in Violin Performance with Nancy Dahn. During his time at Memorial, Dominic played violin and viola with the Memorial University Chamber Orchestra, assuming roles of concertmaster and principal viola, and has also been a regular member of the first violin section of the Newfoundland Symphony Orchestra, sitting as assistant concertmaster for the 2011-2012 season. He is past assistant concertmaster of the Newfoundland Symphony Youth Orchestra. He has participated in summer music programs, including the Tuckamore Chamber Music Festival, the Scotia Festival of Music, the Orford Festival and the Tafelmusik Baroque Summer Institute. Dominic is also a regular member of the orchestra for the Opera on the Avalon Festival in St. John's, of which he has played as concertmaster. In 2011, Dominic was the inaugural recipient of the Dorothy and David Peters Scholarship for Music Performance at Memorial University.
Dominic is currently a freelance performer and teacher in St. John's, and frequently performs in solo violin, string duo, trio, quartet and orchestral settings. He is a versatile performer, and is proficient in many styles including classical, folk, pop, rock and jazz. Dominic is also very passionate teacher and enjoys sharing his love of music with others. ​
Kiera Galway, Executive Director
Kiera Galway is an educator, musician and administrator based in St. John's, NL. Kiera has been Executive Director of CALOS Youth Orchestras for the past four years. She holds a PhD in Music Education at the University of Toronto, where her research focused on cultural and musical geographies in Canada, mapping the intersections of space, identity, and music. She also holds Masters degrees in Musicology and Choral Conducting, and a B.Mus. in Bassoon Performance. Kiera taught at Memorial University for several years and serves as Music Director at the Basilica of St. John the Baptist. Kiera is active in the music community in St. John's as a choral/orchestral performer.
Frank Fusari, Coach, Beginner Bass Program
Annie Corrigan, Coach, Beginner Oboe Program
Nicole Hand, Coach, Beginner Bassoon Program
Kate Read, Coach, Beginner Viola Program
In 2013, after almost 10 years, Kate Read returned to Newfoundland and rejoined the Atlantic String Quartet and Newfoundland Symphony Orchestra as principal violist, where she had already played for 3 seasons between 2001 and 2004.  In 2004 Kate won a position with the BBC Symphony Orchestra, London, England where she was a member of the viola section for 6 years. Kate also regularly played with the renowned Academy of St Martin-in-the-Fields, London Symphony Orchestra and Philharmonia Orchestra of London. As a member of the Elgin String Trio, with fellow BBC colleagues, Kate never strayed far away from opportunities to play chamber music. In 2011 the draw of chamber music combined with astonishing nature led Kate to the north of Norway to play with chamber group MiNensemblet, with whom Kate performed all over Norway and internationally. Kate has been recorded by CBC for Two New Hours and Musicraft and made numerous recordings with orchestras in the UK for the BBC as well as for top record labels. Kate is also the violist of Dark by Five, resident ensemble at Gros Morne Summer Music.